The gist: High print speeds and great image quality. Best for mid- to high-volume runs and continuous, roll-to-roll production. Industry-leading low ink costs make for unbeatable long-term savings.
Top Uses & Applications
General Retail Labels

High Volume Roll-to-Roll

Nutraceutical & Pharmaceutical

Private Labeling

Food & Snack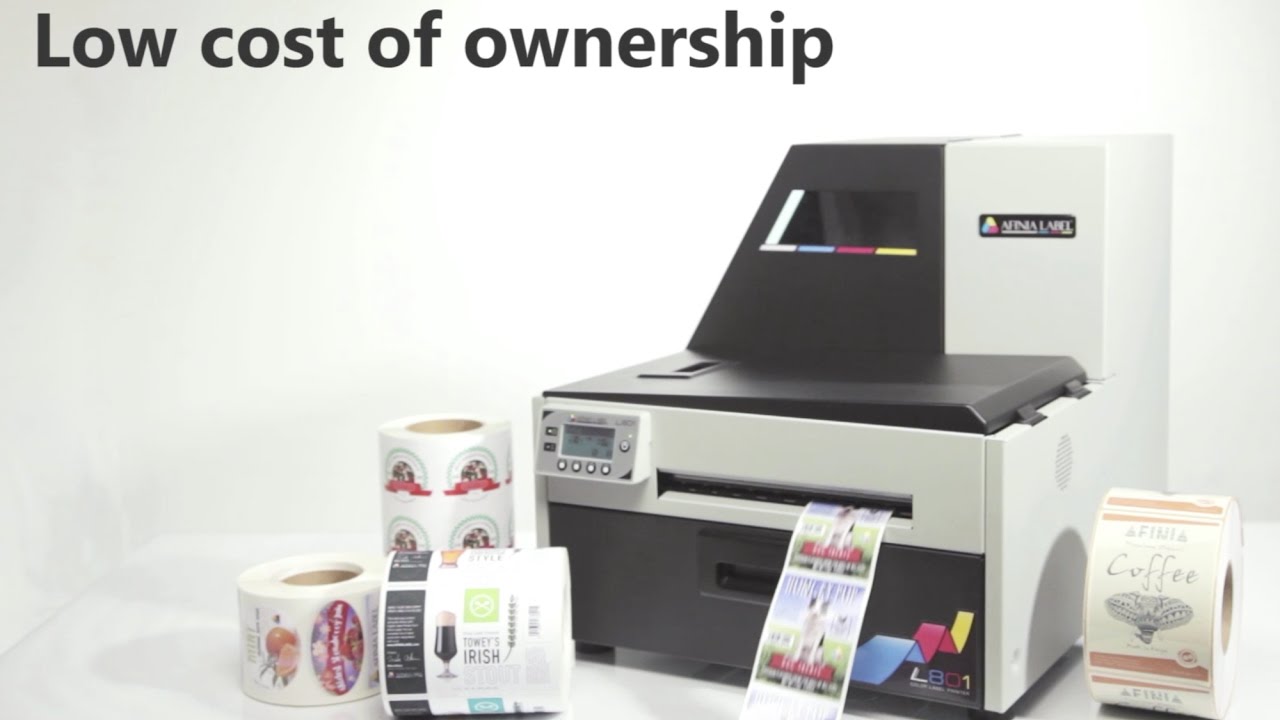 Professional Print Quality at High Speeds
The L801's combination of print quality, speed, and ink cost is tough to beat
The L801 is a Memjet-powered industrial inkjet printer that is ideal for short- to medium-range print runs for prime and secondary labeling applications. It prints on continuous or die-cut stock from 2 to 8.5 inches in width, in full color, and at speeds of up to 60 feet per minute. Super-fine resolution makes for crisp text and barcodes, even at very small sizes. This detail, combined with vivid colors and rich blacks, makes labels look sharp and vibrant. The L801 is also compatible with a wide range of paper, polyester, polypropylene, and vinyl label stocks.
---
L801 Plus with Watershield™ Water-Resistant Inks
The Plus model offers increased water and moisture resistance1.
Watershield-printed labels are significantly more resistant to the effects of prolonged moisture exposure than conventional dye-based inkjet labels. This makes the L801 Plus perfect for applications such as chilled beverages, foods, chemical or pharmaceutical products.
This new technology also produces more neutral grays and uses more responsibly-sourced inks2.
1 Water resistance can be media-dependent.
2 Watershield™ inks do not contain chemicals that are considered to be harmful to humans or the environment

High-volume printing
Fast print speeds (≤ 12 IPS)
Super low ink costs
Water-resistant inks available
L801 / L801 Plus Details
Minimize ongoing ink costs
Cost per label should be as important as printer cost when investing in a label printer. These ongoing costs are minimized by the L801's industry-leading ink cost, which can be easily calculated using the included software. It holds 1.25 liters of ink to support large runs, and has easy-access doors for fast and simple media and ink replacement. An optional powered rewinder makes printing to finished rolls simple.
Roll-to-roll label printing
The optional rewinder pairs perfectly with the L801 to allow for continuous, roll-to-roll label production. Easily handle rolls up to 8 inches in outside diameter for high-volume jobs and reduced media costs. It's a recommended addition for companies that experience high usage or heavy duty jobs.
Like the L801, the rewinder can handle label sizes up to 8.5″ wide and rolls with up to 8.0″ outside diameter. It gives you the ability to choose the direction of rotation to situate labels to be either face-in or face-out.
Once rewinding is complete, simply remove the core holder and completed roll.
Memjet Waterfall Technology
The L801 Industrial Color Label Printer is a digital label printer that uses Memjet technology, allowing you to print high-impact, full-color output at up to 60 ft/min (18 m/min). Memjet's stationary "waterfall" printhead technology allows paper to move quickly through the printer, while maintaining excellent print resolution.
High quality & resolution
Using the L801 industrial color label printer, you can print at up to 1600 x 1600 dpi for vivid, eye-catching labels. By using CMYKK (two black ink cartridges), the L801 offers exceptional color and rich blacks, giving you the ability to print with better contrast.
Low cost of ownership
Afinia Label Memjet label printers allow you to save on consumables. The L801 holds 1.25 liters of ink to support large runs, and offers an industry-leading low ink cost.  based on label size and percent ink coverage, or see how the L801 has a great return on investment.
Specifications
Printer

Print method:
Memjet Waterfall Printhead Technology® 11 Integrated Circuit (IC) Chips – 70,400 nozzles (6,400 per IC Chip)
Inks:
Dye-based, 250mL CMYKK cartridges (1.25L total) — Watershield water-resistant formula available
Print resolution:
1600×1600 dpi or 1600×800 dpi
Print speed:
6″–12″ per second (152mm-305mm)
Print width:
8.5″ (216mm)

Media

Media types:
Compatible with a range of paper, polyester, polypropylene, and vinyl label stocks
Media width:
2″–8.5″ (50.8mm–216mm)
Media length:
2″–40″ (50.8mm–1016mm)
Thickness:
Minimum 0.005″ (0.13mm) Maximum 0.01″ (0.3mm, including liner)
Maximum roll diameter:
8″ (203.2mm)
Core diameter:
Requires 3″ (76.2mm) cardboard core
Media sensors:
Gap, continuous, black mark
Die-cut label gap:
Minimum 0.125″ (3.0mm) Maximum 0.3″ (8.0mm)
Black mark:
3mm wide, 25.4mm long, Left side position

General

Cutter/sheeter:
Powered
Interfaces:
USB 2.0, TCP/IP (Manual IP configuration or DHCP), GPIO available for external device control
Operating system:
Windows 7+ (32 and 64 bit)
Barcode font:
1D Barcode at least Grade B (Code39) with 10mils bar width
Two-dimensional code printing:
2D Barcode at least Grade B (PDF417) with 10mils cell size
Operating temperature:
15°–35°C (59°–95°F) at RH 20–80%
Storage temperature:
-5°–50°C (23°–113°F) at RH up to 85%, non-condensing at 65°
Dimensions – printer only:
18.9″ (480mm) W, 19″ (485mm) D, 21.1″ (535mm) H
Weight:
83 lbs. (37.6kg)
Rated voltage:
AC 110V – 220V
Rated frequency:
50–60Hz
Warranty:
One year
Afinia part numbers:
L801 Printer: 23139
Black Ink: 22453
Cyan Ink: 22467
Magenta Ink: 22474
Yellow Ink: 22460

---

L801 Plus Printer: 31091
Black Plus Ink: 30412
Cyan Plus Ink: 30424
Magenta Plus Ink: 30433
Yellow Plus Ink: 30419
L801 Rewinder: 23125