Print labels from your PC, Mac, smartphone or tablet using USB, Ethernet, Wi-Fi and Bluetooth. Or alternatively use it in standalone mode by selecting and printing labels previously designed and uploaded to the memory, using the integrated backlit LCD display. When used with special rolls, you can print labels that can contain both black and red print without needing any ink.And when you can print custom sized labels up to one metre in length using the built-in cutter and continuous rolls, you can see why this is the most advanced label printer available.
Key Features
USB, Ethernet, Wi-Fi and Bluetooth connectivity with support for MFi and AirPrint
Print on pre sized labels (for your address shipping labels) or continuous rolls up to 62mm wide (for indoor/outdoor signage). Or print labels stored in memory using the integrated control panel.
Large backlit LCD display for easy set-up and operation
Print in black and red without needing ink or toner
Built-in cutter to create your own length labels
Optional rechargeable Li-ion battery base for mobile labelling applications
Print labels without a computer
The QL-820NWB works as a traditional label printer – simply design your label on your PC or Mac, and then print. In addition, your commonly used labels can be uploaded to the internal memory locations. Then, simply scroll through the stored labels using the control panel to select and print the label. You can even print the current date and time or let the printer calculate a future one, making it ideal for printing labels for food packaging and "tested on / next test due" applications.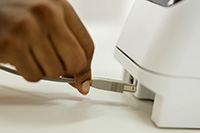 Full range of connectivity
With USB, wired Ethernet, Wi-Fi, and Bluetooth as standard, you have all your options covered. AirPrint and MFi certification (Made for iPod/iPhone/iPad) ensures maximum compatibility with Apple products too.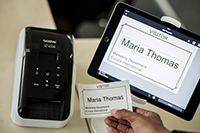 Print from PC, Mac, iOS and Android devices
Choose from several options for designing and printing labels. Download for free the P-touch Editor label design software for PC and Mac to design labels with text, barcodes, images and frames. Alternatively, head on over to your app store to download the free iPrint & Label app for iOS and Android, then quickly create and print labels from your mobile devices, wirelessly.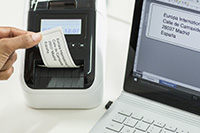 Microsoft Office and database printing
The P-touch Editor add-in for Microsoft Office (Windows only) allows you to select and print data directly from within Word, Excel and Outlook with just a click! Or if you have text stored in an Excel or .csv file, you can import this into P-touch Editor. Simply place each field on your label layout to print many labels with the same format (design). Ideal for printing address, product and pricing labels.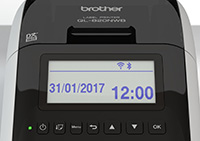 Integrated LCD for easy operation
Easily select the labels stored in memory that you wish to print, thanks to the large backlit graphic display. Setting up and configuring the machine is made much easier, as is troubleshooting if any errors occur with on-screen guidance on the problem and how to easily resolve it.
Optional Li-ion battery base
There are situations where you may need to print labels away from a power source, such as use on a portable trolley and printing from a tablet in retail, healthcare or similar industries. The optional Li-ion battery base has a fast charge function, and lasts for thousands of labels on a full charge.
Large range of labels for any application
The QL series label printers use Brother DK rolls – that easily slot-in for fast label changes. Several types are available:
Pre-sized die-cut adhesive labels in paper and plastic film material.
Continuous adhesive labels in paper and plastic film material that can be cut to the length you need (up to 1 metre).
Non-adhesive card ideal for receipts and name badges.
Removable adhesive for repositioning labels.