The QL-800 is the perfect choice for office workers who need a reliable and fast address label printer.Quickly print labels from your PC or Mac with this high speed label printer. Thanks to the integrated P-touch Editor Lite label design software it is so easy to use – simply connect to your computer, click the icon to launch the software and design and print your labels. Or use the advanced P-touch Editor label design software to include barcodes, images, and other advanced functions.You're also able to produce labels with both black and red print without the need of ink or toner – ideal to highlight important information on a label.

And the integrated cutter allows custom sized labels up to one metre in length when using one of the continuous label rolls.
Key Features
USB connectivity for quick and easy set-up
Print labels up to 62mm wide from your PC or Mac
Built-in label editing software doesn't need installing. Simply click to run
Print in black and red without needing ink or toner
Print on pre sized labels (for your address or shipping labels) or continuous rolls up to 62mm wide (for indoor/outdoor signage)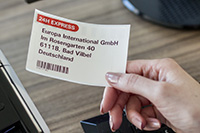 Black and red printing without ink
Brother DK label rolls are available in a range of traditional die-cut (pre-sized) labels, or continuous, that allows the built-in cutter to cut your label to the precise length (up to one metre). Plus, draw attention to important information by including red* on your labels too – ideal for highlighting use-by dates, allergens and other critical information.
*DK-22251 roll required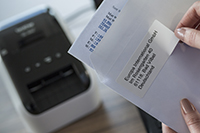 Click and print from Microsoft Word/Excel/Outlook
The P-touch Editor add-in for Microsoft Office (Windows only) lets you print labels with the information you use every day, with just one click. Highlight your text, click the add-in, and the label is printed. Alternatively, text saved in an Excel or .csv file can be imported into P-touch Editor and merged with your label layout to print many labels with the same format (design). Ideal for printing address, product and pricing labels.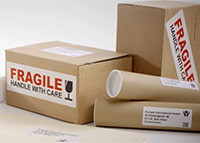 Large range of labels for any application
The QL series label printers use Brother DK rolls – that easily slot-in for fast label changes. Several types are available:
Pre-sized die-cut adhesive labels in paper and plastic film material.
Continuous adhesive labels in paper and plastic film material that can be cut to the length you need (up to 1 metre).
Non-adhesive card ideal for receipts and name badges.
Removable adhesive for repositioning labels.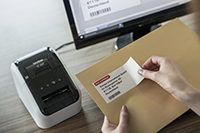 The easy-to-use label printer
Developed for use in busy workplaces, this advanced label printer is easy to set-up and use. Using the same technology as USB pen drives, simply connect to your PC or Mac, and run the built-in software without the need to install printer drivers. For more labelling options, download the free P-touch Editor label design software and printer drivers to design and print fully customised labels containing text, frames, barcodes and images.